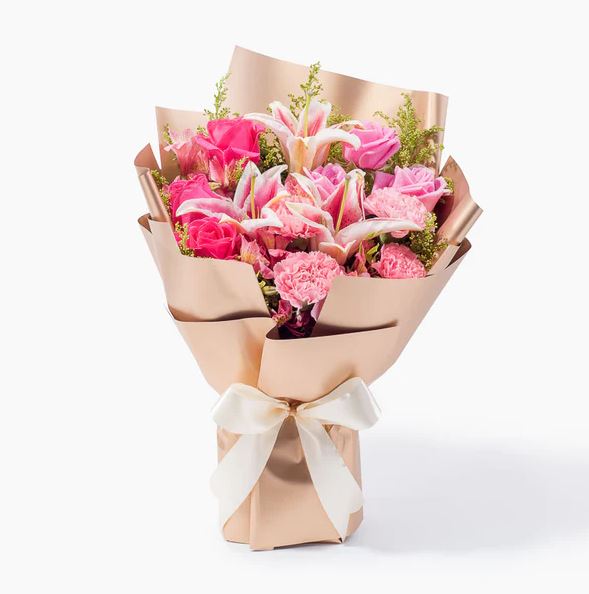 Pretty Pink Mix of Lilies, Roses, Carnations and Alstroemeria with Fillers
Catch your loved one off guard with this stunning and heady mix of all pink flowers with green fillers that's sure to brighten someone's day! Go ahead and get one, or two, or three, it's really up to you! They deserve it! 

Please note that same day delivery may not be available for Alstroemeria and they may need to be preordered a day in advance. Please check with our customer care before placing the order. 

Blooms :
- 4 x  Pink Roses 
- 4 x Light Pink Carnations
-3 x Oriental Pink Lilies 
- 3 x Pink Alstroemeria stems
Product Inclusions: 
Green Fillers ,Brown Paper wrapping with pink Ribbon
1 - The image displayed is indicative in nature.Actual product may vary in shape or design as per the availability.
2 - We try our best to replicate the product shown.
3 - Flowers may be delivered in fully bloomed, semi-bloomed or bud stage.
4 - The chosen delivery time is an estimate and depends on the availability of the product and the destination to which you want the product to be delivered.
5 - Since flowers are perishable in nature, we will be able to attempt delivery of your order only once.
6 - This product is hand delivered and will not be delivered along with courier products.
7 - Flowers may need to be substituted depending upon availability or regional restrictions.
1- As your flowers arrive, arrange for a vase (if one has not come with the flowers) to keep the flowers in and make sure that it is thoroughly clean, as bacteria makes flowers wilt faster.
2- Fill your vase with lukewarm water up to just more than half of the length of the vase.
3- Before you place the flowers in the vase, cut about 2-3 centimetres from the bottom of the stems at a 45-degree angle.
4- Place your flowers in a cool place as the lukewarm water helps the stems absorb water easily and the cool air keeps the flowers fresh.
5- Change the water every other day as needed to prolong the life of the flowers.
6- Keep your flowers away from direct sunlight and windy areas.
7- Care for the flowers and let them bloom longer for you! Enjoy the beauty of flowers to the fullest!